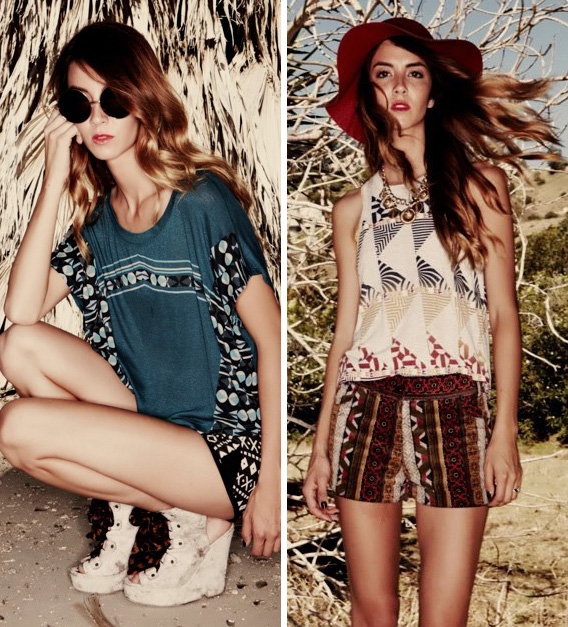 Today we're kicking off a new blog column where we interview rising artists, designers and small companies, getting to know them a little better. We're starting with one of our absolute favorite clothing labels, WkShp.
Known for their colorful graphics and distinct, neo-bohemian flair, they're located in downtown Los Angeles, and they make some of the softest graphic tees around . I love their new Spring '12 collection; it's good I have some time to save some money, because I'm going to need one of everything! Be sure to check out their facebook page to see the rest of this collection, find out where to shop, and to keep up with all the latest WkShp news.
Scroll down to read what WkShp's head merchandiser, Christina Carter, had to say in response to our brand spanking new interview questions.
AW: Where do you like to find inspiration?
WkShp: Vintage textile prints, clothing, and works of art found in places all over the world like Tokyo, Paris, and Sydney inspire the themes and colors for each collection.  WkShp's merchandisers are constantly traveling both globally and locally, gathering ammunition for the art team to begin their creative process.
AW: Who is the WkShp girl?
WkShp: The WkShp girl is confident, bold, and fearless. She knows a great tee can totally transform an outfit! We want each tee to invoke a feeling of complete comfort and ease while simultaneously achieving a trendy, fashion right statement. Cool and effortless.
AW: What is the best type of accessory or item to pair with a WkShp tee or sweatshirt?
WkShp: With our bold prints and bright color palettes, we view our tees as the accessory! We are pairing our tees over maxi dresses and skirts for Fall and Spring; come Summer, we can't wait to pull out our patterned short shorts for an unexpected print mixed look.
AW: What are your two favorite pieces from the new collection, and why do they stand out?
WkShp: We are obsessed with our new high neck Optic racer tank! The cut is super flattering and perfect for our edgy girl! We are also really loving Geo Inception. The print turned out so fantastic that we had to offer it in two colorways, we couldn't choose just one! This is the tried and true geometric art with a twist that WkShp has become known for offering.
AW: If you could pick one celebrity to shoot the ad campaign of your dreams, who would it be?
WkShp: Florence Welch from Florence and the Machine. Her style vibe is the perfect mix of feminine and edgy…she always gets it right!
AW: What can we expect to see from WkShp in the near future?
WkShp: We are always experimenting with new silhouettes, so expect to see us delve into other categories such as dresses and bottoms. One day we to hope to expand into a men's line as well!