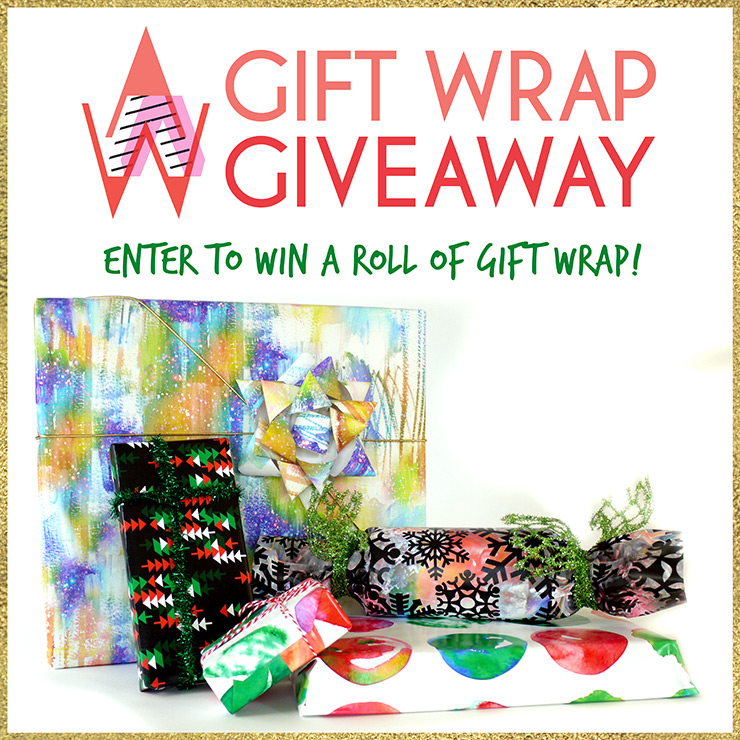 It is with great excitement that we announce our joining forces with Spoonflower in order to offer a growing selection of designs available for sale as fabric, gift wrap, and wallpaper. If you're not already familiar with Spoonflower, you should check out their craft-inducing menu of products which are all produced and shipped from Durham, North Carolina. We have been huge fans of their high quality wrapping paper since last year – this is definitely NOT the crap you buy at the local pharmacy that rips like crazy when you try to drag scissors across a large area. No way. This is some beautifully printed, heavy duty paper. It's so forgiving that should you find the need to reposition a piece of tape in the middle of wrapping a gift, it doesn't even remove the ink from the print or tear the paper! In other words, it's good stuff.
In an effort to get the word out about these great new products we are giving away three rolls of gift wrap to lucky winners, chosen at random, across three different platforms – one winner on the blog, one on Instagram, and one on Facebook. This means you have a total of three opportunities to enter the giveaway, enhancing your chances to up your gift giving game with some awesome Aaryn West wrapping paper. The drawing ends Friday, November 28th at 9pm PST. And entering couldn't be easier – keep reading below for instructions on how get in on the action.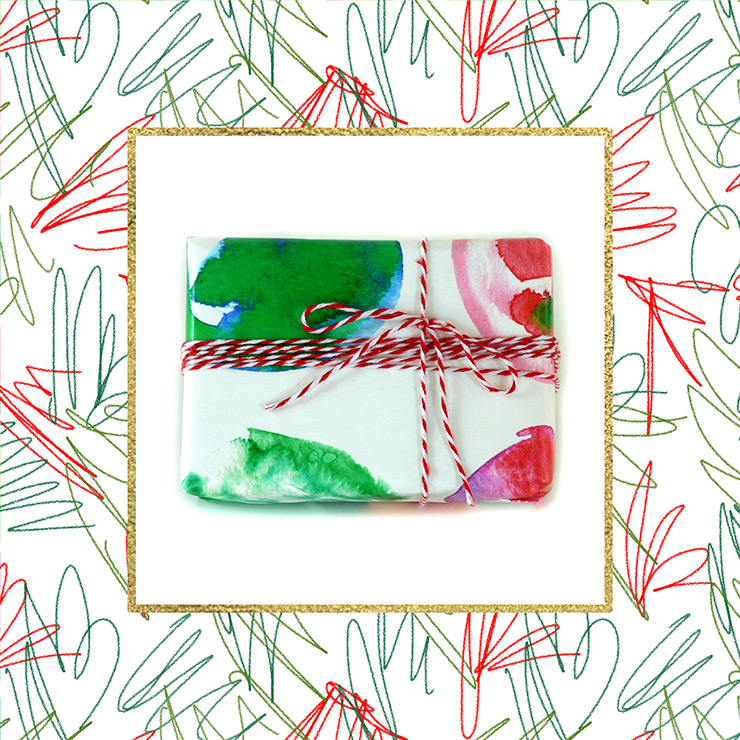 To enter on the blog:
Step 1 – Subscribe to the Aaryn West newsletter. Scroll up to the top of this webpage to find the form. If you're already subscribed you are super awesome and can skip this step.
Step 2 – Leave a comment below describing the best gift you've ever received. Any gift, any reason.
To enter on Instagram:
Step 1 – Follow us on Instagram
Step 2 – 'Like' our Gift wrap Giveaway announcement post Instagram
Step 3 – Visit our Spoonflower shop to browse our designs
Step 4 – Comment on our Instagram post telling us your favorite design
Step 5 – Tag a friend
To enter on Facebook
Step 1 – Follow us on Facebook
Step 2 – 'Like' our Gift wrap Giveaway announcement post Facebook
Step 3 – Leave a comment telling us how many times a year you use wrapping paper.
Step 4 – Share the post
Winners will be announced in a blog post next Monday, December 1st. Good luck to everyone!