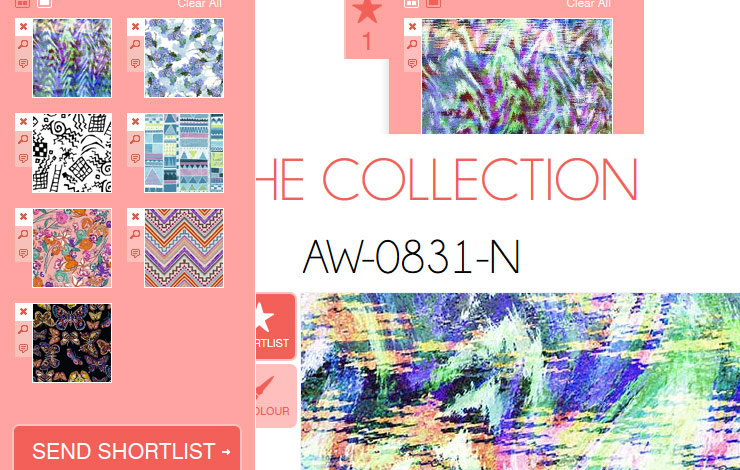 It's an exciting time for Aaryn West;  We've been expanding the collection with a number of great new designers, engaging the community with expert posts, experimenting with surface products, and our art is on some amazing designer fashions.
Preview Our Entire Lineup
Gone are the curated experiences of our old system. With this iteration we're giving each client 72 hours of unfettered access to preview our full collection. This allows our clients to review art otherwise missed by the scope of a request. We've made the system easier to use, allowing you to sort via the newest art, by category, by tag and by searching. Allowing registered users unrestricted access benefits us too, we can now focus on bringing new art to the viewer and getting you faster access to the latest artwork.
Shortlist the Perfect Print
The Online Collection is now equipped with a shortlist system for your convenience. The system is easy to use and can be hidden for unobstructed views when necessary. One click additions can be added via buttons next to every print. Save the artwork you're interested in for later via your browser, persistent across visits. Add notes to your shortlisted prints, request recolors and send your list to us for sales responses, all from within the interface.
Expanding Client Services
With this rollout we mark a new year of improvements for our client services. Along with the updated collection, we've also brought our recolor and bespoke request forms online for registered clients. Each form outlines the basics we need to get your request moving, we've included upload slots for specifications you may need to send. We hope the Online Collection and Client Hub will help clients new and old stay more connected with our rolling trend updates. None of these updates change how you currently work with us, you'll get the same personal service you always have. We'll be updating and improving throughout the year, we always love to hear your feedback so please get in touch!
Register Today!
In honor of the product launch, clients registering for the Client Hub this week can receive a free recolor for any prints in their shortlist.