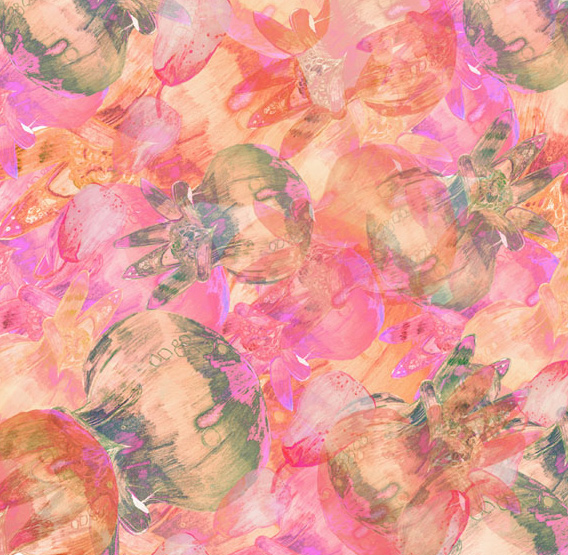 If you follow the world of up and coming surface designers, our next artist will likely be no stranger to you. Perhaps you discovered Nikki Strange the way I did, in this feature of her on Pattern People's phenomenal blog. She's an independent designer based out of the UK, with quite an impressive resume for being a relatively recent graduate. I became an immediate admirer of her ethereal, cotton-candyesque prints, and wasn't surprised to learn of her multiple wins in Beta Fashion's online print competitions, most notably the Asos/Beta Fashion Freedom Project. Her dreamy, opalescent prints are perfect for the flowy, feminine garments in the collection.
And of course I was thrilled to discover her profile on one of my favorite artist networks, Society6. I am kind of flipping out over her Gem Pop print; it's just so shiny! I think I need it on my phone. [Good thing I have a birthday in a few months..] After reading her answers to our interview below, be sure to check out Nikki's awesome blog, and more of her work here. And if you dig it the way we do here at Aaryn West, send her a nice note via twitter.
Aaryn West: Where do you like to find inspiration?
Nikki Strange: Inspiration is everywhere! I spend a lot of time routing through nature books, looking for colour palettes and interesting obscure textures; from intricate glacier formations to mark makings found on mineral rocks and coral beds. I take pictures of anything that catches my eye as there are prints and patterns just about everywhere and the smallest thing can really trigger big ideas.
AW: Describe your style in three words.
NS: Fluid, delicate, whimsical.
AW: Do you have a favorite medium or theme you like to follow within your personal work?
NS: My love of impressionist artists such as the greats, Monet and Renoir, has influenced my work as my style is often painterly and delicate. It's also often abstract as I love creating energetic, sporadic mark markings and movement through my prints. Paints, inks & fine liners are the main mediums I use, though I like to experiment with photography and vectors as a means of combining hand drawings with digital art. At the moment I'm trying not to obtain too many habits and routines with designing as I feel I should always be pushing different mediums and combining new styles and techniques so that I'm always learning.
AW: If you could choose any designer or artist to collaborate with, who would it be and why?
NS: I'd love to collaborate with the design duo Basso & Brooke. I've worked backstage at a few of their London fashion shows and I've always been breathtaken with just how beautifully detailed their digital prints are. They both seem like fun guys to work with and they could certainly teach me a thing or two about pushing boundaries.
AW: What do you like to do to unwind when you need a break from work?
NS: I take my dog for a walk! My garden backs out onto a large common land so if I ever need a breath of fresh air and a few moments away from the computer I go out into the woods and have a little adventure.
AW: If you won the lottery today, would your job, your art, or the process you use change in any way?
NS: Winning the lottery would certainly make things a lot easier! Initially, I would ensure my studio had everything I could possible dream of so that I would be constantly inspired and motivated in my own little haven. I'd also invest in machinery and printing equipment so that I could set up my own business and start printing my designs independently and perhaps invest in a fashion designer to collaborate with as that is something I'd love to be able to do!