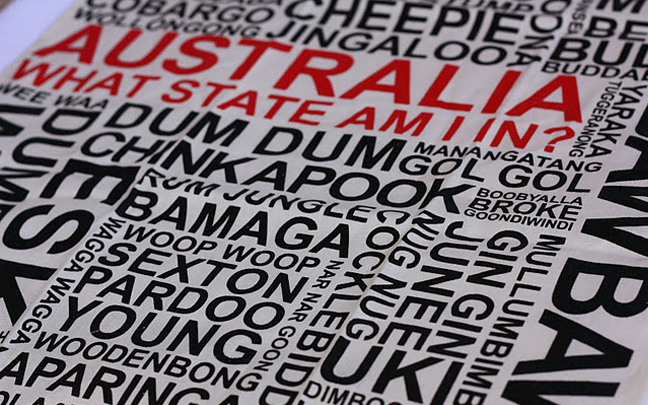 I love the internet for its global participation, the chance to laugh, discuss and share things with people all over the world.  I also know the little gasp of recognition when seeing something representative of your own home town or identity.  I fondly remember the little personalized name labels that were sewn onto school clothing and personalized greeting cards. Personalized bedroom door signs have been around for some time, too.  More recently, large letters have adorned the walls and dressers of styled rooms.  Coca-Cola Australia recently launched personalized bottles and cans via Facebook, using its researched 150 most popular names.  Aaryn and I missed out!  I'd be outraged if I actually drank the product.
A current interior design trend I'm loving is typography; fabric printed with names, geographical and personal. British Route Sign Designs uses British bus routes as its inspiration for fabrics (but the company is based in Oregon!).  The fabric can be sold individually or already wonderfully applied to furniture and pillows. You can also have your own fabric personalized at Spoonflower. The site gives a welcome 'how to' guide on how to get your fabric produced from concept to preview to completion.  And here is one blogger's guide to how she created fabric with her baby daughter's name using Spoonflower.
Article on Coke's campaign in Australia.
Furniture by British Route Sign Designs.
Typography pillows via Ticking & Toile.
Custom fabric tutorial via here.
Jude fabric via Spoonflower.
Aprons & tea towels via Annabel Trends.
-Post by Kitt Lviv