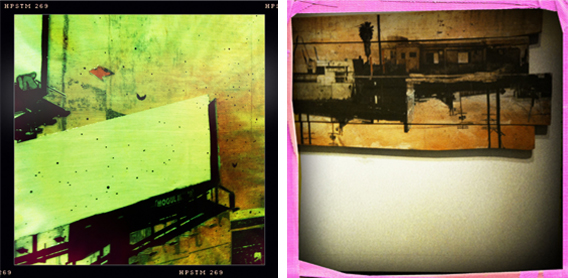 Last night was opening night for artists Liz Brizzi and Ana Bagayan at Thinkspace Galllery in Culver City, CA. If you read this blog regularly, you may already know I'm a huge fan of Liz's gritty, textured urban-scapes [is that a word? if not, it should be]. However, the work of Ms. Bagayan, featured in the main gallery, was a pleasant discovery. Her use of light and creamy-smooth shading were breathtaking, and her quirky characters were quite endearing. The mini dinosaurs kind of made my heart melt. A lot. My hipstamatic iPhone photos certainly don't do either artist justice in the accuracy dept., so be sure to link over to both websites to see the actual paintings.
Paintings by Ana Bagayan and Liz Brizzi at Thinkspace Gallery, Culver City,CA.
Photos courtesy Aaryn West Surface Design Studio.